Waterton Lakes National Park: A Pristine Paradise of Nature's Grandeur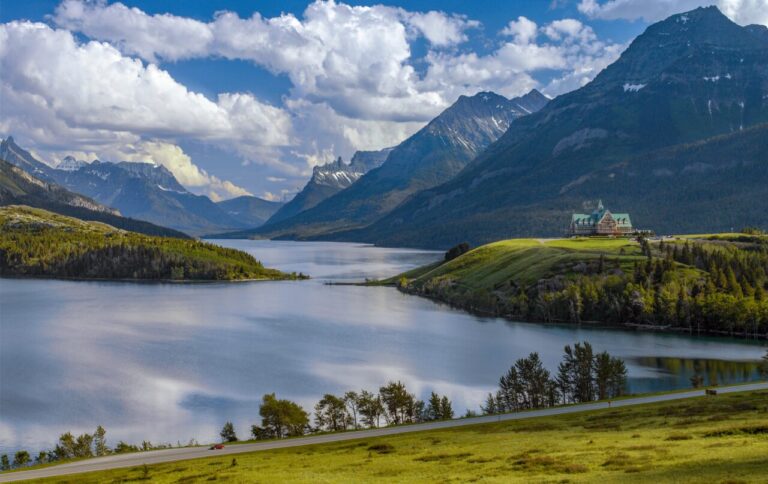 Nestled in the southwestern corner of Alberta, Waterton Lakes National Park stands as a testament to the unbridled beauty of the Canadian Rockies. With its stunning lakes, towering peaks, and diverse ecosystems, Waterton Lakes is a haven for outdoor enthusiasts, wildlife admirers, and those seeking a tranquil escape into the heart of nature.
Yachting in Balaton, Hungary - short 4k cinematic film

And don't forget to give us a like! :)
In this comprehensive exploration, we will uncover the unique attractions that make Waterton Lakes National Park a gem within the crown of the Rockies.
Waterton Lakes National Park
1. Prince of Wales Hotel: An Iconic Landmark
Perched on a bluff overlooking Upper Waterton Lake, the Prince of Wales Hotel is an iconic symbol of Waterton Lakes National Park. Its picturesque setting, surrounded by the majestic peaks of the Rockies, makes it one of the most photographed hotels in the world.
Visitors can explore the hotel's historic architecture, enjoy a meal with panoramic views at the Royal Stewart Dining Room, and experience the timeless elegance of this landmark.
2. Waterton Lakes: Jewels of the Rockies
Waterton Lakes National Park is named after the interconnected lakes that grace its landscape, Upper Waterton Lake and Lower Waterton Lake. These pristine bodies of water are surrounded by lush forests and snow-capped peaks, creating a postcard-perfect setting.
The lakes offer opportunities for boating, kayaking, and simply soaking in the breathtaking views. The unique convergence of mountain and lake landscapes is a defining feature of Waterton Lakes.
3. Crypt Lake Trail: A Hiker's Paradise
For those seeking adventure on foot, the Crypt Lake Trail is a must-try hiking experience. Accessible by boat from Waterton Village, this trail takes hikers through diverse landscapes, including dense forests, hanging valleys, and rocky ledges.
The highlight of the trek is the famous Crypt Lake, nestled in a cirque surrounded by towering cliffs. The trail offers not only physical challenges but also rewards hikers with stunning vistas and a sense of accomplishment.
4. Red Rock Canyon: Nature's Palette Unleashed
Red Rock Canyon is a natural wonder within Waterton Lakes National Park, known for its vivid red and green hues. The striking coloration of the canyon's rock formations is a result of iron oxide deposits in the rocks.
A scenic drive and walking trails allow visitors to explore the canyon, marvel at the unique geology, and appreciate the contrast of the red rocks against the surrounding greenery.
5. Cameron Falls: A Serene Cascading Beauty
Cameron Falls, located near the townsite of Waterton, is a tranquil waterfall that adds to the park's scenic charm. The falls cascade over layered rocks, creating a soothing symphony of water.
A short stroll from the townsite brings visitors to this natural oasis, where they can enjoy the sounds of rushing water and capture the falls' beauty through photographs.
6. Wildlife Watching: A Symphony of Nature
Waterton Lakes National Park is a haven for wildlife, providing opportunities for enthusiasts to observe a diverse range of species. Bighorn sheep, mule deer, black bears, and grizzly bears are among the park's inhabitants.
The Red Rock Parkway and Akamina Parkway are known for wildlife sightings, making them ideal routes for those hoping to catch glimpses of these majestic creatures in their natural habitat.
7. Waterton-Glacier International Peace Park: Transcending Borders
Waterton Lakes National Park is part of the Waterton-Glacier International Peace Park, a unique designation that spans the border between Canada and the United States. Together with Montana's Glacier National Park, it forms an international alliance committed to preserving the natural and cultural heritage of the region.
Visitors can explore this shared ecosystem, appreciating the interconnected landscapes that transcend political boundaries.
8. Bears Hump Trail: A Scenic Vista
For a relatively short yet rewarding hike, Bears Hump Trail offers stunning panoramic views of the Waterton Valley, Upper Waterton Lake, and the surrounding mountains. The trailhead is conveniently located near the Prince of Wales Hotel, making it easily accessible for visitors.
The hike's summit provides an ideal vantage point for capturing the splendor of the park and is a favorite spot for photographers.
9. Akamina Parkway: Alpine Beauty Unveiled
Akamina Parkway is a scenic drive that leads visitors through alpine meadows, rugged mountains, and pristine landscapes. The journey along this parkway offers opportunities for wildlife viewing and stops at iconic sites like Cameron Lake.
As the road winds its way through the mountains, it provides a captivating glimpse into the diverse ecosystems that thrive within Waterton Lakes National Park.
10. Waterton Village: A Charming Retreat
Waterton Village serves as the gateway to the park, providing a charming retreat with a variety of amenities. The village offers a range of accommodations, restaurants, and shops, allowing visitors to unwind and refuel after a day of exploration.
With its welcoming atmosphere and proximity to key attractions, Waterton Village is an ideal base for those looking to fully experience the wonders of Waterton Lakes National Park.
Conclusion: A Symphony of Nature's Grandeur
In conclusion, Waterton Lakes National Park is a symphony of nature's grandeur, a place where lakes, mountains, and wildlife converge to create an unparalleled tapestry of beauty. From the iconic Prince of Wales Hotel overlooking the lakes to the exhilarating Crypt Lake Trail and the vivid hues of Red Rock Canyon, Waterton Lakes captivates the senses and invites exploration.
Whether seeking adventure, tranquility, or a connection with the untamed wilderness, Waterton Lakes National Park stands ready to offer an unforgettable experience in the embrace of the Canadian Rockies. Read more about Waterton Lakes National Park here. For more great places to visit in Canada read this!