45 Best Places to Visit in Slovenia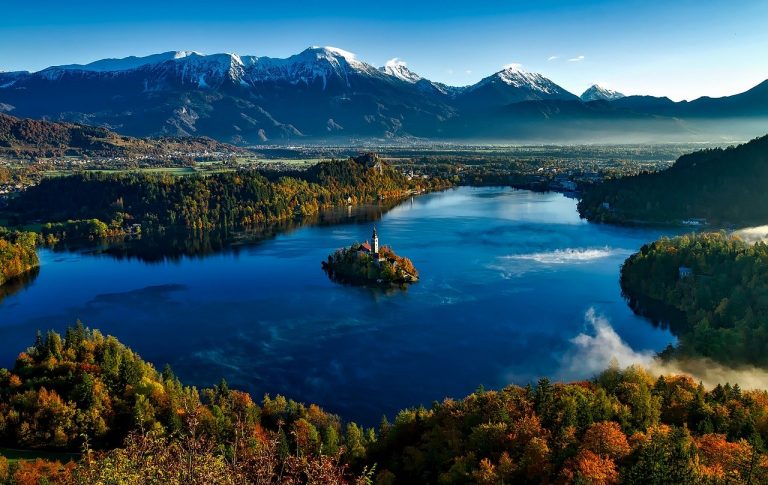 45 Best Places to Visit in Slovenia! Slovenia offers some of the most idyllic landscapes in the world for you to visit. Despite its relatively small size, it has a lot to offer. There is also a lot of rich and interesting history here for you to learn about.
Yachting in Balaton, Hungary - short 4k cinematic film

And don't forget to give us a like! :)
Unexplored Slovenia offers many attractions. Slovenia is one of the first countries to rank among the green destinations on the basis of international ecological criteria. The Adriatic coast, mountains with many rivers, lakes and caves, beautiful cities and no less beautiful monuments. During your holiday in Slovenia, you can plan several trips and cross almost the whole country in a week or two.
Best Places to Visit in Slovenia
1. Julian Alps
The Julian Alps boasts title the highest mountain range in Slovenia. In 1924, a part of the local area (84,805ha) was declared Triglav National Park, which is the largest protected area in the Alps and was also a pioneer of protected areas in Slovenia.
Hiking in the Julian Alps is very popular. The best starting point for hikes is Bohinj, but also Bled, Kranjska Gora, Bovec and Kobarid. It is suitable for both less skilled and those who prefer more demanding outputs. All major peaks are crossed by marked paths. Some peaks can be overcome using the so-called via ferrata.
2. Triglav National Park
Triglav National Park spans an impressive 83,807 hectares of rugged but idyllic landscape with majestic mountains that tower over you. This is a popular place for people to go hiking, cycling, swimming and camping.
If you want to experience the great outdoors in this country, you should definitely visit this park. Triglav is the tallest mountain within the park, and many people have climbed it over the years.
3. Soca River Valley
The valley of the river Soca is situated in the western Julian Alps, and it too is an extremely beautiful place to spend time. Here you will find Tolmin Gorge, which is over 60 meters deep with underground rivers to explore.
There is also Bovec, which is located in the upper part of this valley and is very popular for those who enjoy rafting and kayaking. Rafting on the Soča River is the most popular sporting activity that true adrenaline lovers cannot resist.
4. Predjama Castle
Predjama Castle is located only 10 kilometres from Postojna, and it is a truly amazing thing to see in person. It is located in the village of the same name as the castle, and it is known for its extensive cave systems.
Those who are looking for some real adventure should consider coming here. Many people explore these caves each year, and there are guided tours you can take.
5. Postojna Cave
Postojna Cave is just one of nearly 1,000 caves in Slovenia and is also one of the biggest. There are actually trains that go through this cave, transporting tourists around. You can also take a walking tour of this cave, which will allow you to learn more about it. This is definitely one of the main natural wonders that this country has to offer.
Postojna Cave is truly a natural wonder that you will have to see to believe. It has existed for thousands of years and is open every single day of the year including bank holidays. There are guided tours that will take you into the bowels of the cave while giving you the opportunity to learn more about the local geography. Postojna has a lot of fascinating history behind it.
6. Ljubljana
Ljubljana is the capital of Slovenia and has a lot of rich history behind it. There are many fun and interesting attractions to visit here, including Ljubljana Castle, the Dragon Bridge, and Tivoli City Park.
This park has a sprawling green landscape that is perfect if you just want to spend some time relaxing. Anyone who loves history will find this place fascinating.
7. Ljubljana Castle
Ljubljana Castle is situated on a hill above the capital city (376 m). Originally it used to be a wooden fortress, however late in the 13th century it was changed to stone.
In the 12th century, which also dates the first written mention, it belonged to the Spanheim dukes. Its present appearance dates back to the end of the 15th century. Later also served as a prison.
8. Bled
The town of Bled is the perfect day trip for those who want a relaxing getaway. It can be found on a tranquil glacial lake and has some of the best skiing in all of Slovenia.
Lake Bled offers some great fishing and swimming in the warmer months. There is also Bled castle, which is hundreds of years old with a beautiful fairytale aesthetic.
9. Vintgar Gorge
Vintgar Gorge is close to Bled and is one of the most stunning natural attractions in this country. It measures 1600 meters long and has a system of wooden footbridges that tourists can use to navigate this rugged landscape.
If you want to spend some time in nature, there are few other places that can compare to this gorge. However, if you don't feel like climbing Triglav, head to the Vintgar Gorge instead.
10. Maribor
Maribor is the second largest city in the entire country, and it has a lot of interesting history behind that you can learn all about when you visit. Maribor Castle now serves as a museum where you can see all sorts of old artefacts on display over numerous exhibits.
There is also the Maribor Pohorje Ski Resort if you want to get on the slopes. Maribor offers beautiful walks, enchanting monuments, as well as sports activities or wine tasting in the cellars.
11. Kranjska Gora
Kranjska Gora is a popular Slovenian resort town that is close to Italy, and it is yet another amazing place to go skiing. Lake Jasna offers some extremely idyllic scenery that you won't soon forget.
There is also the Russian Chapel on the Vrsic Pass, which has some fascinating history behind it. This is a very fun and beautiful time to spend a weekend while you are here.
12. Portorož and Piran
Portoroz attracts many tourists each year with its gorgeous seaside scenery and many great shops. There are also plenty of amazing restaurants and cafes that you can go to get something to eat or drink.
Piran is a small old town that has a number of historical landmarks and sites to visit, including the Walls of Piran. This 7th-century wall once served as a way to defend from invading forces, and it has stood the test of time. There is also a nearby maritime museum that is located inside a 19th-century palace. Tartini Square is where you will find the best shopping, and St. George's Parish Church is a beautiful landmark with a clock tower.
13. Bohinj lake
Bohinj lake is situated in the Julian Alps surrounded by wonderful mountains, making it a very idyllic place to spend time. The nearby Savica Falls makes this entire area that much more desirable of a destination for tourists who come to Slovenia.
It is hard to describe the beauty of Lake Bohinj. Since 1981 it has been part of the Triglav National Park and, in fine weather, the peak of Slovenia's highest peak – Triglav (2864 meters above sea level) is visible from the lake. There are a number of rivers that you can go kayaking and raft down here.
14. Savica Waterfall
The Savica Waterfall is nearly 80 meters high and can be found just 5 kilometres from Lake Bohinj. It is another very popular natural attraction in this country, and for good reason.
The breathtaking scenery of this area makes it a popular place for people who just want to relax. If you want to escape the busy touristy areas, this is a great choice.
15. Bovec
Bovec is a fairly small town that is located west of the Julian Alps. There is a number of funny and interesting things to see here, including Kluze Fortress.
There is also a Slap Virje, which is a large and beautiful waterfall. The outdoor museum Ravelnik will allow you to learn more about the area while spending some time in nature. If you are feeling adventurous, try the local rafting and canyoning.
16. Koper
The city of Koper has a population of around 23,000 people, and its main historical landmarks include Praetorian Palace and loggia that boasts an impressive gothic architecture.
There is also a winery where you can go to taste different types of wine. If you are travelling with your family, the Aquapark Zusterna is a great place to relax on the beach and spend some time in the water.
17. Rogaška Slatina
Rogaška Slatina is located on the eastern side of the state and features a popular resort with numerous health spas where you can go to relax. The local scenery is breathtaking and very conducive to reducing stress. If you have had enough of the busy tourist areas that are packed with people, this is a great alternative to explore.
The development that Slovenian thermal resorts have undergone since the 1990s can be a model for other countries involved in the tourism industry. With its 87 thermal springs Slovenia can compete with such thermal powers as Hungary, Iceland or Japan.
18. Izola
Izola is a very old port town in Slovenia that dates back to the 2nd century B.C. There is an archaeological site a few kilometres away from this town called Haliaetum.
The sheer amount of history in this area is incredible, and it is a truly unique experience. If you want to learn more about the roots of this country, Izola is a wonderful place to visit.
19. Kranj
Kranj is the fourth most populous city in all of Slovenia, and it has a lot to offer for the average traveller. This city has a number of lakes, including Lake Zbilje, Park Brdo, and Kokra river and canyon.
It is the perfect destination for those who love spending time in nature and want some real adventure. You can rent kayaks to take down some of these rivers.
20. Bohinjska Bistrica
Bohinjska Bistrica is a town that is situated in the Sava Bohinjka River Valley. There is a large water park that is the perfect place to go with your family.
The Sava Bohinjka is a river that is perfect for those who love kayaking and fishing. Kobla is the place to go if you are interested in skiing. There is really something for everyone here.
21. Kobarid
Kobarid is a settlement with a small population of just over 1,000. It is home to Triglav National Park, which has some extremely beautiful scenery that you should try to check out.
Nearby Soca offers some great fly fishing and rafting opportunities. You should also make a point of seeing Krn (2,244m), which has a tall peak with trails and amazing views of the countryside.
22. Sezana
Sezana is located close to Trieste in Italy, and it has a lot of modern attractions that you are bound to enjoy. There is a winery here where you can go to do wine tastings.
Karst Living Museum is an incredibly unique attraction that you won't soon forget. You can go to Sezana Botanical Park when you just feel like taking a nice relaxing stroll through some beautiful flora.
23. Skofja Loka
Skofja Loka offers some incredibly beautiful countryside scenery that you will not soon forget. It also has some of the oldest bridges in the entire country, which are quite something to see in person.
There is Loka Castle, which is over 150 years old and has been incredibly well-preserved. This is a great destination in Slovenia for anyone who loves old towns and history.
24. Skocjan Caves
The Skocjan Caves attract tens of thousands of visitors each year with their unmarred natural beauty. It is one of the highest cave systems in all of Europe.
You can take guided tours through these caves while learning more about them and the surrounding region. It is a great place for families to spend time while here.
25. Ptuj
Ptuj is by far the oldest city in Slovenia, and there are many monuments and museums that you can visit to learn more about its rich history. The Regional Museum is one of the best places to go if you want to find out all about this place.
Ptuj Castle is situated on a hilltop and has another museum that is definitely worth taking a trip to.
26. Ptuj Castle
Ptuj Castle sits on a slight elevation above the Drava River. It has been a fortified place since ancient times. Behind the Romans, it protected an important route from Rome to Pannonia, and soon the city grew and became an important trade centre.
It is definitely the biggest attraction in the town besides carnival and historic town centre.
27. Vogel Ski Center
Good snow conditions make Vogel an attractive winter destination, though not yet known. Some of the best ski slopes in Slovenia are located in the Triglav National Park over the lovely Bohinj Lake.
In winter, it boasts a high number of sunny days and in clear weather, you can see the highest mountain of Slovenia – Triglav.
28. Mostnica Gorge
Looking for some Alpine romantic place? Not a problem here in Slovenia. Just visit Mostnica Gorge which is situated near Lake Bohinj. Mostnica Gorge (Korita Mostnica) is located in the heart of the Triglav National Park.
Many tourists heading for the famous Bohinj Lake also take a pleasant walk through the forest between the walls of the canyon. Enjoy beautiful views of the Mostnica River and the rock formations.
29. Planica
Planica is the world-famous ski jumping resort is located in the northwest of Slovenia in the Triglav National Park, only a few kilometres from the popular tourist centre of Kranjska Gora.
Planica is referred to as the Slovenian cradle of ski jumping sport, where the world records are often broken.
30. Pokljuška gorge
Pokljuška gorge is one of many interesting places that can be found near Lake Bled. This natural gorge is (unlike the more famous Vintgar gorge) very quiet and peaceful. It is a real paradise literally for all those seeking some privacy in nature.
Pokljuška is situated about seven kilometres from the most visited place in Slovenia – Lake Bled. A half-day hike trip is enough to visit this gorge.
31. Peričnik waterfall
Peričnik waterfall offers a rarity: Walking behind the waterfall! It is another of the beautiful waterfalls of Slovenia.
Like most of the natural jewels of Slovenia, it is also situated in the beautiful setting of the Julian Alps. The easiest way to get to the waterfall is from the village of Mojstrana and you are likely to meet quite a lot of people on the way, as this path is very popular among tourists.
32. Lake Cerknica
What about visiting some of the Slovenian natural curiosities? There are plenty of the natural beauties in Slovenia and an intermittent lake Cerknica is one of them!
The lake is periodic. This means that it temporarily dries up. The karst lake of Cerknica can be found (but also may not) in the Slovenian southwestern region of Nostrania. The size of the water surface of this lake changes quite often because it depends on the groundwater level and also on the season.
33. Velika Planina
If you want to be rewarded with an amazing view you have to take a demanding hike. The Alpine grass plateau lying in the Kamienic Alps at an altitude of 1666 meters is a popular destination for sport-based tourists. You can go skiing here in the winter, and hiking in the summer.
However, it is not so easy to get there but this place is often referred to as the most beautiful place in Slovenia!
34. Brežice castle
As it's already certain from the tips I mentioned above, Slovenia is a small but really very beautiful country. Apart from beautiful nature and wonderful towns, the country boasts also a number of interesting and breathtaking castles.
In eastern Slovenia, not far from the Croatian border, you can find another jewel Brežice Castle, which boasts beautiful Baroque frescoes. According to many, it is also home to the most beautiful castle hall in Slovenia, so you can't miss it on your Slovenia tour!
35. Celje castle
Above the town of Celje, there is the castle of the, who would say that, Celje castle. It is also one of the most interesting that Slovenia can offer.
Not only is it the largest medieval fortress in the whole country, but it is also linked to several horror stories. Being the longest continuously restored castle in Slovenia, the castle is now a museum which you should visit to learn more about it!
36. Idrija Mine
Idrija is not among the most visited Slovenian towns, but thanks to its history, it is definitely worth visiting. In the 15th century, the mercury deposits were found in the surrounding slopes.
Since then the local mercury mines have been in operation for more than 500 years, and at the time of their greatest glory, it was considered the world's second-largest mercury mine. However, mercury is no longer being used here. Instead, the mining areas are open to the public and, together with the historic centre, are included in the prestigious UNESCO list.
37. Snežnik Castle
Snežnik Castle, also known as Schloss Schneeberg, was built in the very charming landscape of southwestern Slovenia near Snežnik Mountain (1796 m), which snowy peak dominates the wide surroundings.
The castle was first mentioned in 1286. It was built by the Counts of Ortenburg and its administrators became Schneeberg. Today you can visit a museum here!
38. Bogenšperk Castle (Wagensberg)
Slovenian name of Bogenšperk Castle is a garbling of the original German name. It is located east of Ljubljana near Litija. Originally it belonged to the Wagen family who resided here.
However later in 1672, the castle was sold to the Valvasor family, who were its most famous owners. Janez Vajkard Valvasor had a printer and a graphics workshop set up here, where he printed his exceptional Baroque publications. Today there is an exhibition dedicated to his life and work.
39. Ruins of Kamen Castle
Kamen Castle stands in a strategic location at the entrance to the Draga Valley, which leads to Karawanks mountain range. It was built by Earl of Ortenburg already in the 13th century when the castle was mentioned for the first time.
In 1418, the estate was inherited by the Earls of Celje, but the estate was administered by the Knight Steina. After their extinction, the castle passed into the hands of the Lambergs. Today it is only a ruin but is gradually being reconstructed.
40. Hrastovlje
Hrastovlje is a landlocked village hiding a real jewel: a unique ancient Romanesque church of the Holy Trinity from the 13th century. It should be the only preserved fortified church.
In the Church of the Holy Trinity from the 12th century (now the UNESCO cultural heritage site) there is the oldest frescoes in Slovenia showing the interpretation of the Bible.
41. Lipica
Lipica is a small village located east of the Italian port city of Trieste, which gave the name to one of the most famous horse breeds – Lipizzaner. This is the place where the horses were sent from to the Habsburg court.
During World War II, the Lipizzaner were taken to Austria and transferred to other stud farms. They are back nowadays, although in much smaller numbers than before. At a certain hour, the stables and dressage are open to tourists, and a small museum describing the history of their breeding is open to all visitors.
42. Dobrovo Castle
Dobrovo Castle is located in Goriška Brda area, set in the hilly countryside near Gorice and the Italian border. This Renaissance chateau was built here in 1590 by Colloredo family.
In the middle of the 19th century, the chateau became the property of the Baguer family. After World War II, the castle was plundered by the people and later repaired after a long time. Today, it is home to the Zoran Mušič Gallery.
43. Velenje Castle
Velenje Castle is one of the most beautiful and best-preserved castles in Slovenia. It lies on a steep rock above Velenje city.
Velenje Castle served mainly as a fortress against the Turks. In the 13th century it belonged to the Lords of Kunšperk, and today there is a museum.
44. Otočec Chateau
In the east of Slovenia, about 9 kilometers from the town of Novo Mesto lies one of the area's biggest tourist attractions – the Otočec Chateau. It lies near the border with Croatia, in the beautiful Dolenjska region, which is considered the green heart of Slovenia.
This romantic castle is situated on the islet in the middle of the Krka river. Founded sometime in the 12th century Otočec Castle now serves as a luxury hotel, so if you have some spare money why not to stay here overnight?
45. Salinera
Salinera is a resort located on the Slovenian Adriatic coast between Izola and Piran, near Portorož. The tranquil holiday resort is hidden in a green bay with a clear sea near a saltworks where a centuries-old tradition of salt extraction has been preserved. Salt and mud have been used for ages in the thermal baths of Porotorož for therapeutic purposes.
You can find here a nice rocky beach, which offers very pleasant swimming. There is also a wide range of shops, stylish restaurants and bars. Salinera is the perfect place for people looking for a peaceful holiday amidst unspoilt nature with a rich hotel offer.
Slovenia is a picturesque landscape surrounded by the Alps, the Adriatic Sea, the Balkans. It neighbours with Italy, Croatia and Hungary, making it easily accessible from many European countries. Holiday in Slovenia is an opportunity to see vibrant cities, charming villages, snowy hills and small beaches and I hope I have persuade you to visit it on your next holidays!.