15 of the Best Beaches in Thailand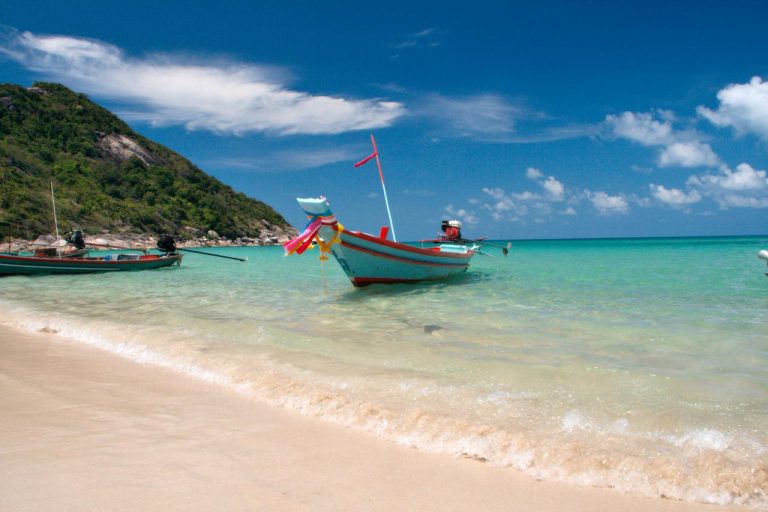 Thailand is a country of breathtaking beauty with over 1,400 different islands. If you are planning to visit this country, you need to make a point of visiting some of its incredible beaches. They are among the most stunning natural wonders on the planet!
Thailand, known for its stunning tropical islands and crystal-clear waters, offers some of the best beaches in the world. The beaches of Phuket, such as Patong Beach and Kata Beach, are popular for their lively atmosphere and water sports opportunities. Phi Phi Islands, including Maya Bay and Long Beach, boast breathtaking limestone cliffs and vibrant marine life, perfect for snorkeling and diving. For a more secluded and tranquil experience, head to Railay Beach in Krabi, surrounded by dramatic cliffs and accessible only by boat.
Finally, the islands of Koh Samui and Koh Phangan offer a mix of beautiful beaches, from lively stretches like Chaweng Beach to serene spots like Haad Yuan. With its stunning coastal beauty and warm tropical climate, Thailand's beaches are an ideal destination for beach lovers and paradise seekers alike.
Best Beaches in Thailand
1. Maya Bay
Maya Bay is without a doubt one of the most striking beaches the world has to offer. It was featured in the movie The Beach, and it's something you really have to see for yourself to believe. The crystal clear blue waters and white sandy shore make it a very popular destination for tourists. If you are planning to visit Thailand, this Koh Phi Phi beach should be a top priority.
2. Morakot Cave
Morakot Cave's sparkling blue waters and tall jagged rock cliffs make for an incredibly idyllic aesthetic that you'll be sure to enjoy. It is very secluded, offering almost eerie tranquillity that will make you want to stay forever. It is a popular spot for swimming, frequented by the locals and tourists alike. This beach has a magical feeling to it that is wholly unique.
3. Railay Beach
Railay Beach is one of the nicest beaches Krabi has to offer. Its emerald green waters and tall rock formations make it a peaceful and relaxing setting for nature lovers. It is the perfect place for swimming, scuba diving, snorkeling and so much more. The waters are usually pretty calm, and you can rent kayaks to take out on the ocean.
4. Ao Manao
Ao Manao, also known as Lime Bay, is a gorgeous white sand beach that truly looks like paradise when you first set eyes on it. There are a few really good restaurants in the area that serve delicious seafood and other dishes. You won't have to go far to find top-notch accommodations either. There are trees up and down the beach that only add to its natural beauty.
5. Bottle Beach
Bottle Beach is a popular area for parties and celebrations of all kinds throughout the year. It attracts lots of tourists because of its untamed beauty. This is a very peaceful place to take a swim or just lie on the white sand to get tan. There are some small sporadic jungles as well, making it the perfect place for an exciting adventure.
6. Ao Kwang Peeb
Ao Kwang Peeb can be found on Koh Phayam Island. It has a large stretch of white sand with unique rock formations and dense foliage that is truly stunning. The clear blue water makes it a wonderful place for swimming and scuba diving. It is fairly secluded but still visited by many people throughout the year. This is by far one of the most relaxing and tranquil places on earth.
7. Donald Duck Bay
While it definitely has an interesting name, Donald Duck Bay is a wonderful beach with a lot to offer. It is rife with sea life and has a dense jungle that is perfect for those who want to go exploring in nature. This white sand beach is also perfect for swimming, kayaking, scuba diving and snorkelling. Those who go under the clear surface of the water are bound to see some amazing things.
8. Freedom Beach
Freedom Beach is one of the reasons so many people visit the island of Phuket each year, and it's easy to see why. This beach spans 300 meters and features sparkling white sand as well as dense jungles and steep green hills. It offers a relaxing and peaceful experience that you won't soon forget. You can either walk down a fairly steep path or take a boat to this beach, and it's well worth it.
9. Sunrise Beach
Sunrise Beach has gotten increasingly popular over the years because of its idyllic beauty and relaxed atmosphere. It lined with trees and has some of the clearest turquoise waters in the entire world. Just taking a walk down the white sand beaches is truly an experience to remember. If you want a real tropical paradise experience, this is the beach to visit.
10. Klong Prao Beach
This beach is very quiet and perfect for when you want to spend some time relaxing in nature and get away from it all. It is always clean and there are plenty of different places to get something to eat and drink. You will be hard-pressed to find a better spot to watch the sunset in this entire area. Klong Prao Beach is one of the hidden gems of Thailand.
11. Phra Nang Beach
Phra Nang Beach's white sandy shore and huge limestone cliffs make for an interesting and beautiful landscape. This is one beach that you have to see with your own two eyes to really believe. There are also some amazing coral reefs and sea caves that you can explore while you are here. It offers some of the best views in Thailand to be sure.
12. Tambon Puek tian
Tambon Puek tian, which can be found in the Phetchaburi Province, has clear bluish-green waters that are excellent for swimming and snorkelling in. There is plenty of sea life in this area, and the overall landscape is really awe-inspiring. You will also see a number of big rock formations that interspersed throughout the area that make this place even more unbelievable.
13. Sai Daeng Beach, Koh Tao
This secluded island is especially peaceful and perfect if you want a more relaxed vibe. Nature lovers will definitely enjoy this place. You can't help but appreciate the amazing scenery, and it is always very quiet. Many people come here each year to go scuba diving because of the numerous coral reefs. Shark Island isn't very far away, so there's a lot of great nature in this region.
14. Kan tiang Beach
You will find Ka tiang Beach in Mu Koh Lanta National Park. It has a golden sandy shore that is great to just walk along while you soak up the gorgeous scenery. One of the best things about this beach is that it's not choked with tourists like so many others. In fact, this is one of the most tranquil beaches Thailand has to offer. Many of the people who come here just lay out on the sand and soak up the rays.
15. Taling Ngam, Ko Tan, Samui
Taling Ngam, Ko Tan, Samui has a jungle with lots of different animals that you can see as you make your way through. It has beautiful blue waters and it's a popular place to go swimming. This is also one of the best spots to watch the sunrise in the morning. You will quickly find that this entire area has a lot to offer in terms of natural beauty.
Thailand, often called the "Land of Smiles," is a captivating destination that offers a unique blend of cultural treasures, natural beauty, and warm hospitality. From the bustling city of Bangkok with its ornate temples and vibrant street markets to the picturesque beaches of Phuket and Krabi, Thailand's diversity is enchanting.

Visitors can immerse themselves in the rich history and ancient ruins of Ayutthaya and Sukhothai, witness the beauty of floating markets and lush landscapes in the countryside, and enjoy the delectable flavors of Thai cuisine. Whether seeking adventure, relaxation, or cultural exploration, Thailand promises an unforgettable journey filled with stunning sights, a laid-back ambiance, and a chance to experience the country's timeless charm and traditions.